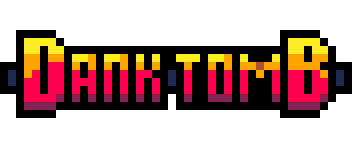 Dank Tomb
Delve down into the dimly lit corridors of Dank Tomb and see if you can solve all its puzzles. Find the seven golden idols hidden within and uncover the forgotten story of an ancient king gone mad.
Before you play:
Dank Tomb is a pay-what-you-want title, which means that if you prefer to play it for free, it's perfectly okay to do so. But I'd really appreciate it a lot if you choose to click the "support this game" button above, or support my future work on Patreon! To show you how much I appreciate it, there is even an expedition journal with additional Dank Tomb story available for download for those who choose to support the game. Source code is also available for PICO-8 enthusiasts.
Controls:
Arrows - walk around, Z/C - jump, X/V - interact/use items.
Gamepads are supported as well, if you prefer to play that way.
If you're stuck, just exit a room and enter it again - it will reset and let you start fresh.
Saving your progress:

If you'd like to put the game down and return to it later, the game features a special room where you can save your progress. Once you see the "progress saved" message, it's safe to close the browser.

To delete your progress (to get 100% completion on a new playthrough, maybe?), press Escape and select "delete progress" from the in-game menu. Warning: irreversible!
Credits:

The audio is a joint effort by @itsmerobertk (original music) and @gruber_music (PICO-8 music arrangement and sound effects). Everything else is by @krajzeg.
| | |
| --- | --- |
| Published | Jul 27, 2017 |
| Status | Released |
| Platforms | Windows, macOS, Linux, HTML5 |
| Release date | Jul 25, 2017 |
| Rating | |
| Author | Jakub Wasilewski |
| Genre | Adventure |
| Tags | 2D, Action-Adventure, Atmospheric, Exploration, Metroidvania, PICO-8, Pixel Art, Puzzle-Platformer, Singleplayer, Top Down Adventure |
| Average session | About a half-hour |
| Languages | English |
| Inputs | Keyboard, Gamepad (any) |
Download
Click download now to get access to the following files:
Map of the game (beware spoilers/hints!) (PNG)
629 kB
Dank Tomb PICO-8 Cartridge
51 kB
Ana's Expedition Journal (PDF)
1 MB
if you pay $3.00 USD or more
Dank Tomb Source Code (PICO-8)
110 kB
if you pay $5.00 USD or more
Comments
Log in with your itch.io account to leave a comment.
I had to buy it just to look at the source. Very very impressive.
I love the artwork and lighting. The collisions kinda suck though.

This was great. Thanks for stealing those hours from me :P
I think I've got a bug report for you though: It's possible to complete the left-hand side without getting the item in that section. Which confused me pretty thoroughly when trying to get through the room with the three switches. The issue is that it's possible 1) to push things by using inside corners to get an angle on them and 2) to stand on the edges of tiles that are occupied by pushable objects. I used 2 to get through the item-gating room (by getting on the bottom edge of the floating platform and pushing the block up) and I used both to get through the puzzle just afterwards (the last boulder-push required jumping over the gap and *into* the boulder making sure to push it before I could fall)
Thanks, glad you had fun!
About the bug/exploit you found: one other person already stumbled upon it, and it also confused them pretty thoroughly. I wish I had a clean way to fix it, but it's kind of hard to do it without risking breaking something else. I'll think of something though and fix this tomorrow - thanks for the report! (fixed)
I really like the game, the art work especially, great work!
I'm very impressed by your game! It feels so natural and nicely. I've stuck on a few levels for a lot, but that was REALLY fun.
Only big problem I found, that player some times stucks in movable rocks.
Also, it was hard to get used to jumping.
Overall, great game! Thank you so much!
OH MAN DOES THAT JUMPING PISS ME OFF.
But that's good! Since you retry from point of entry it doesn't ruin the game any :D
How the hell does that lighting work???
What impresses me most is the un-picolike feel and the big amount of content. Often, a PICO-8 game is just one (very good) idea blasted on screen and that's it but this game doses new content sparingly.

The lightsourcing makes the tomb feel quite claustophobic, it's a very cool way to make the puzzles and the rooms feel more urgent. It feels like it serves the game more than just makes it look good.

That said, I think the only trouble I have is with jumping over holes (and I guess a lot of that comes from the tiny resolution of the PICO-8) but the relaxed retry politics pretty much eliminates this problem. If you drop you just try the same screen again.
5/5, would loot again.


congrats dude, this game is great :)
One of the best pico8 game developer, congratulations for the release!
This is by far the greatest PICO-8 game I've seen. Very, very nice work. Incredibly inspiring what you've been able to cram into a single cart.
Congrats on the most polished PICO-8 game to date!
* clicks [Purchase] * #WellDeserved :D